We here at TheSportsBoys have already ran through the top 100 shoes of all-time, so I thought I'd hit you with my top 20 favorites, I can already hear Vinsanity_15 in his computer room checking and having a Kenan and Kel moment shouting "Ahhhh, here it goes!"
21. Adidas T-Mac II (White - Royal Blue)
Everyone in the world had one of these and for good reason, they were fly (I remember calling things fly)
20. Air Jordan X (White - Black - Cool Grey)
A shoe that when you rock with jeans is absolute fire and a
shoe that reminded me of a rocket for some reason, it may not have the most features but it certainly is a nice shoe.
19. Air Jordan XII (White - Black)
Nothin' but a G' Thang, these shoe's were what anyone who liked J's had, one of the many colorways, Jordan wore these during one of his best years ever.
18. Jordan Melo 1.5 (White - Carolina Blue - Gold)
A shoe I needed right away as it was Melo in a shoe form, smooth and quiet, but loud enough to break a few necks.
17. Nike Air Flight Kidd 1995 (Black - White - Grey)
The best shoe J-Kidd wore as well as one of the most stylish shoe's I have ever seen.
With a cool idea with the eyes looking all around like Jason Kidd these shoes saw everything.
16. Air Flight Hawk (White - Forest Green)
Sort of like a nicer looking Air Flight '95, not to mention GP wore it during '96 on the way to the NBA Finals where he held his own against Jordan, not to mention Jesus Shuttlesworth wore it in "He Got Game".
15. Nike Air Foamposite(Eggplants and Royals)
Penny has the third greatest shoe line ever and rocked these to the top, plus they are his most popular shoe too, not to mention they are deemed the greatest Penny and one of the greatest kicks ever.
14. Nike Air Flightposite II KG (Black - Bronze)
KG's hottest kicks, they somehow fit him exactly (maybe we thought he was a robot inside) plus the black on black and bronze on black colorways were amazing.
13. Reebok Kamikaze (Black - White - Forest Green)
Shawn Kemp goes down as one of the greatest dunkers ever throwing down over everyone and anyone, plus the GP to Kemp connection was amazing, especially since they had some oof the hottest kicks in the game on.
12. Air Jordan VI (Infrared)
Another one of my favorite Jordans, plus he won his first championship in them, not to mention they are so nice it doesn't even make sense.
11. Reebok Zig Encore (Wizards Road and Grown Ass Man)
The first signature shoe for a soon to be legendary point guard. The Reebok Zig Encore's are light, have great traction, and can protect you ankle, everything needed by a PG like
John Wall
, not to mention they're stylish.
Plus the Grown Ass Man edition are absolute fire and a great way to celebrate John Wall's 21st.
10. KB8/Crazy 8 (Kobe and OG)
Kobe's first signature shoe ever would not be topped, with the great colorways and pushing-the-boundaries design the KB8 became an icon in shoe history and has been rocked ever since.
9. Air Jordan XI (Concord and Cool Grey)
Most likely the most popular Jordan ever, brought patent leather in, the most popular design, amazing colorways, and Jordan wore them on his way to 72-10.
8. Air Jordan III (White Cement and True Blue)
The first shoe to ever feature a silhouette of the Player on it, that silhouette became the logo and the rest is quantum physics... or history.
7. Nike Air Penny II (White - Royal)
My personal favorite Penny but not his best according to the masses, It often gets pushed aside in sneaker-head circles but could be worn on the court and another kick you could rock with jeans and a tee and not look crazy, oh and Chris Rock as little Penny made my day every time.
6. Air Jordan 1 (OG and Banned)
THE AIR JORDAN 1 IS NUMBER TWO?!?!?! Yes, Jordan's shoe was banned and became a legend and the greatest shoe from the greatest shoe line ever, it created a culture (the second basketball shoe culture ever) and is too good to be lower than two.
5. Nike Air Foamposite Pro (Pearl)
The original Foamposites are generally the favorite and a lot of you are going to hate these being higher on my list,
BUT
I always liked the Pro's more, since the day I saw them, cause I thought the originals needed the swoosh then BOOM! Plus Jesus Shuttlesworth rocked them making them even cooler than they already were.
4. Nike Air Zoom GP (Lockout)
The shoe fit like a glove, and The Glove rocked these to a great season while putting up many highlights, points, rebounds and assists, not to mention they are just amazing looking and at first they confused people but all of a sudden everyone wanted them, not to mention they had one of the greatest commercials ever featuring Evander Holyfield getting beaten by the Glove, his kicks, a basketball and his trusty spin move.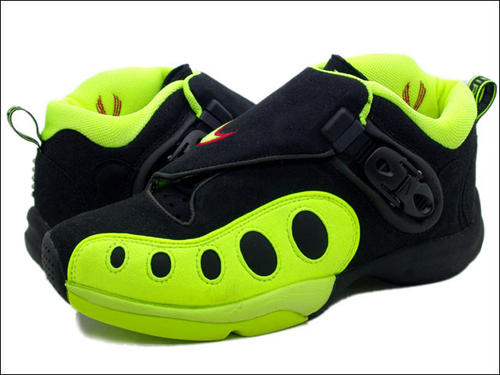 3. Nike Air Zoom Glove (Black - White - Orange)
Gary "The Glove" Payton's best shoe ever, his series rivaled Jordan's (In fact he was such a threat Jordan signed him to player exclusives in his later years).
Gary Payton
had the third greatest shoe line ever and he was the league's best point guard while his line was on top, not to mention it is in an infamous picture of "The Glove" talking trash and shutting "Starbury" down in the 98 Playoffs (one of Payton's greatest years ever). The Air Zoom is amazing yet simple.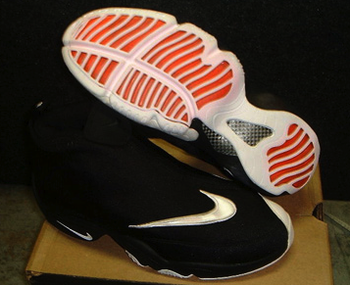 2. Air Jordan VII (Olympics - Bin 23 - Hare Jordan)
These Jordans mark the peak of the greatest player ever, the dream team, and were my shoes of choice in grade 5. My favorite Jordan's and choice for nicest too. I love these shoes and need another pair, plus they have so many amazing colorways and as a die-hard Gary Payton fan it saddens me to have any shoe over the Glove's especially one worn by the guy that stopped the '96 Sonics, but they are way too nice to have any lower (in fact they almost took my top spot if it weren't for the fact that the number one shoe on my list is the number one shoe ever).
1. Air Force 1(White on White)
The greatest shoe ever is not just a shoe but a culture.