Here are our choices for the best basketball shoes ever, and what's a SportsBoys list without an extra, let's start with...
Grant Hill
rocked these with the white and teal Pistons uniform alongside
Jerry Stackhouse
while dominating the league on both ends of the floor.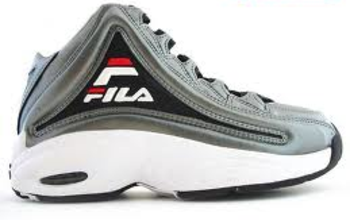 100. Nike Bruin
The first Nike basketball shoe ever, it may have been a revolutionary shoe, but there are many better kicks.
99. Nike Air Penny IV
Widely underrated in the Penny series but a very comfortable shoe that protected your ankle like almost no other.
98. Reebok Pump Omni lite
Dee Brown
turned these into a must have for kids who wanted to dunk (when he robbed Shawn Kemp in the dunk contest), plus when you pumped these up something special was bound to happen.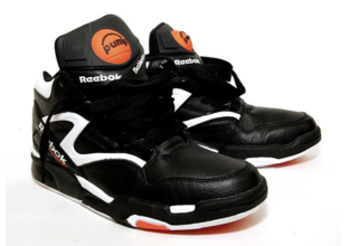 97. Air Jordan IX
A more generic looking Jordan, but he dropped a 50-piece in them and they're still Jordan's (plus generic Jordans are better than no Jordans)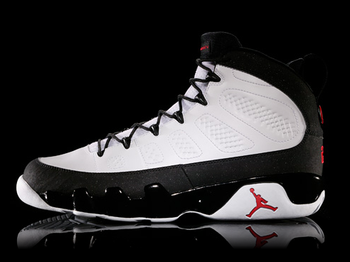 96. Nike Shox Vision TB
The college shoe of choice for many teams, when a team rocks these the just look so in sync.
95. Puma Clyde Frazier
The first low top signature ever, paving the way for point guard kicks forevermore.
94. Nike Jumpman Pro Strong
I remember when
Vin Baker
first came to the Seattle Supersonics, We were said to lose Shawn Kemp but were happy we were getting a post stud who tore it up for us in these stylish kicks (before flopping and becoming a hardcore alcoholic who needed rehab).
93. Reebok Twilight Zone Pump
This shoe was the 80's in sneaker form, the brightness, height and style.
92. Jordan Melo 1.5
A shoe that captivated my attention as soon as it came out, and it's smoothness seemed to match Melo's game perfectly.
91. Nike Hyperize
Another college team shoe that was worn across the nation, providing great ankle support and taking much pressure off landings.
90. Nike Blazer
The Iceman finger-rolled into the hearts of many rocking the Nike Blazers.
89. Nike Dunk
Nothing to say other than the fact that they are a classic and offer the second most colorways second to the Air Force 1's
88. Air Penny I
Penny's first signature shoe became the start of the third best shoe line ever.
87. Reebok Shaqnosis
Shaq may have had a powerful game and charismatic personality, but his shoe game never took off for reasons unknown, then again these were great.
86. Air Jordan XVII
I remember a family friend coppin' these during MJ's Wizards comeback, they came in a metal briefcase, Jordan was a genius.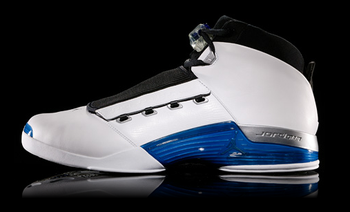 85. Nike Alpha Force II Charles Barkley
A nice shoe that was rocked by a legend, he racked up boards, points and filled the rest of the stat sheet in these babies.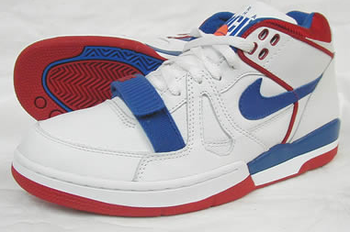 84. Air Jordan XXIII
A great look but certainly not the best, get's more credit for being the 23rd and final shoe in the number series.
83. Air Jordan X
A shoe that reminded me of a rocket for some reason, it may not have the most features but it certainly is a nice shoe.
82. Nike Air Revolution
One of the first shoe's with an ankle strap and see through bubble.
81. Nike Air Max Sensation
C-Webb rocked these before switching to the Dada's, anyone who rocked these had a post game, or at least a killer post spin.
80. Air Jordan XXI
This shoe came with two different air systems which you could switch depending on your style of play.
79. Nike Air Modify Force Mid
A stylish shoe once again a college powerhouse, plus they were taken to the final four (not to mention the peppers in the back look delish).
78. Air Jordan Team I
The OG Team Jordan shoe, and a very stylish one at that.
77. Reebok Zig Encore
The first signature shoe for a soon to be legendary point guard. The Reebok Zig Encore's are light, have great traction, and can protect you ankle, everything needed by a PG like
John Wall
, not to mention they're stylish.
76. Reebok Answer 4
These shoes were made popular because of AI and AI only, they were pretty good looking but he dropped points in them, and I mean a lot of points.
75. Nike Melo M8
These kicks mark Carmelo's Anthony's return to New York possibly the brightest day in Carmelo's career so far and NY's past ten years.
74. Nike Air Zoom Huarache 2k5
A solid shoe worn by college ballers, nba role players and all-stars alike.
Kids nowadays don't even know Fila, but this was there top shoe of all-time and you could see 'Pac wearin' these in various pictures.
72. Adidas T-Mac V
This shoe had a piece of hardwood that made me want to cop them even more, my older brother had the black pair and I had the white pair (He handed me many ass-woopings on the court while we were rocking them).
71. Nike Hyperdunks
The shoe worn by everyone everywhere (except I have never bought a pair), but why not get them, they are lightweight, have support and so many colorways.
70. Air Jordan VIII
The AJ1's pushed the envelope being banned but the Air Jordan VIII tore the envelope open, with the strap and camo piece, they were an amazing kick.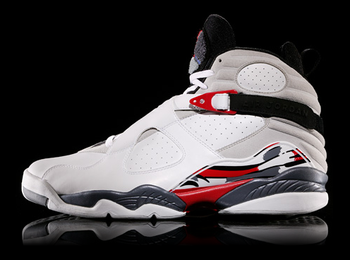 69. Nike Terminator High
A shoe with style that almost matched the Jordan 1's plus you could get as high as Redman at the source awards in these light shoes.
68. Reebok Answer V
A very similar shoe to the 4's but AI looked quicker in these for some reason.
67. Nike Air Max Total Uptempo
A very generic Nike shoe at the time of the release, but it's stylish and even more now.
66. Nike Zoom Ultraflight
A great looking shoe, with a very futuristic look that gave you great performance.
65. Air Jordan XX
A very comfortable J' that had a uber-cool design on the cover, super light too, which is unusual for Jordans.
64. Air Jordan XIX
A great J' that let you take off the cover for two different styles.
63. Nike Air Force Command
Even more 80's than the Pumps, remind me of back to the future.
62. Nike Sky Force
A very stylish shoe that was drowned out by the OG Air Jordans, but they are still a great shoe and similar to the OG J's too.
61. Nike Franchise
The franchise was worn by the legend Moses Malone who can board like no other, in fact he wore them during his HOF career.
60. Nike Air Zoom LeBron III
LeBron's third shoe looked like it would help him gain a post game, it didn't...
59. Nike Delta Force
The beginning of Nike's force lines, a line that dominated the sneaker market forever.
58. Nike Zoom Huarache Trainer
A street ball kick that supported your feet and felt like you were wearing nothing but a shoe sole strapped to your feet, not to mention it felt like you could jump higher in these babies.
57. Nike LeBron Zoom VII
Probably the coolest looking LeBron, it was also super comfy.
56. Nike Air Supreme Flight
A classic ball shoe with comfort to spare.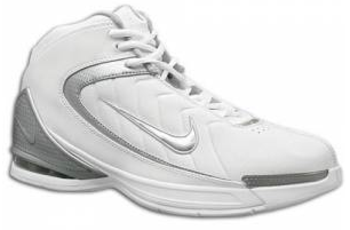 55. Nike Total Air Foamposite Max
Rocked by the Big Fundamental, and it had all the fundamentals of a good foamposite too.
54. Adidas Pro Model
Was the best ball shoe seen before Jordan revolutionized the shoe game.
53. Adidas Forum
A shoe that has been worn over the years, plus it can be worn with jeans and a tee and look amazing too.
52. Nike Lebron Zoom VI
LeBrons most versatile shoe would work for a guard or post player, plus it's not hard on the eyes either.
51. Converse Rodman
A wacky shoe to match a wacky player, they protected his feet while he boarded like crazy.
50. Nike Air Flight 1989
The Air Flight is a classic and can be worn with anything.
49. Air Jordan XIV
Possibly the lightest J's ever, they were based on Ferrari's and they were the shoe MJ was rockin' when he hit his final shot with the Chicago Bulls. Can it get any better? Apparently so...
48. Nike Zoom Kobe VI
Kobe's shoe proved to be more supportive and stylish than his last with a snake print that reminds us of a mamba, hmmmmm...
47. Converse Reacts – Larry Johnson
Grandmama rocked the shoe game with one of the best commercial's as well as stylish shoe's ever!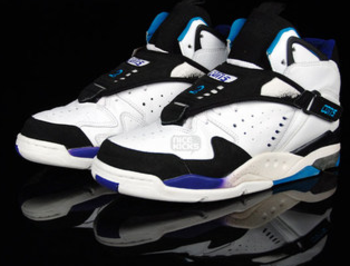 46. Nike Air Zoom Generations
LeBron's first ever shoe, when LeBron's career is over this shoe may jump spots, but i'm still not a big fan of it.
45. Air Zoom Huarache 2k4
Something all sneakerheads know but just incase you don't, this was going to be Kobe's NBA debut but his incident happened shortly before and while Kobe still wore them it wasn't the same... maybe cause every other player was wearing them too...
44. Air Jordan XIII
A Jordan that was worn by Papa Jake Shuttlesworth in He Got Game, and can be seen along with the Air Hawk Flight in the best ball scene in a movie.
43. Nike Zoom Kobe IV
A great looking shoe that also proved to be one of the most comfortable and light.
42. Reebok Answer I
A cool looking shoe that incorporated Reebok's DMX design, The shoe's were cool looking, and very supportive too.
41. Nike Air Pippen II
A sleeker Pippen and the most comfortable shoe with his name on it, but not the best in my opinion.
40. Reebok Pumps Original
The Pump created Reebok, everyone who ever wore them pumped them up after buckets and before dunk attempts (even if you couldn't reach the rim), The Pump has t-shirts, pants and of course shoes, what a legend.
39. Adidas T-Mac III
T-Mac's third shoe was a great shoe, the straight lines and contrast of the overall shoe.
38. Nike Air Pippen
These shoes were the start of Scottie Pippen's shoe legacy and even though his career and shoe game were overshadowed by Jordan, they could hold their own.
37. Nike Air More Uptempo
One of the coolest shoes ever. Plus it embodies the in your face 90's the best it could, and Scottie Pippen rocked these while playing a fantastic game.
36. Nike Air Flight Huarache
The Huarache was brought into the spotlight by the Fab Five, it gave great support and though it may not have looked good at the time it's a classic from now on.
35. Nike Air Maestro
A shoe designed for a speedy, flashy guard, and it was available in many amazing colorways.
34. Nike Air Flightposite
Rocked by KG, a comfortable shoe that fit the times as well as any other shoe then.
33. Nike Air CB4
The Round Mound Of Rebound's best shoe's by far, they could grab boards all by themselves.
32. Nike Foamposite Pro Pearl
Possibly the best looking Foamposites, plus Jesus Shuttlesworth rocked these, bringing their level of importance up bu one kajibillimillijillion times.
31. Nike Kobe V
You see them at the gym, in class, in cars, on shelves, in bags, lockers, on tracks, at home, on the court and everywhere in-between, The Kobe V was the lightest basketball shoe ever when it came out and he also won the ring that put him ahead of Shaq in these.
30. Nike Zoom Air Flight II
This shoe almost personifies 90's ball kicks.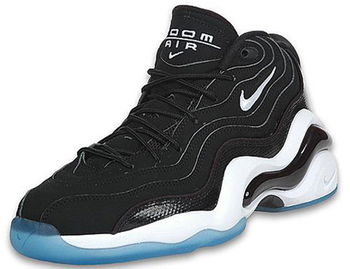 29. Nike Air Flight 1995
The best shoe J-Kidd wore as well as one of the most stylish shoe's I have ever seen.
28. Nike Air Flight Hawk
Sort of like a nicer looking Air Flight '95, not to mention GP wore it during '96 on the way to the NBA Finals where he held his own against Jordan, not to mention Jesus Shuttlesworth wore it in "He Got Game".
27. Nike Air Garnett
When KG won an MVP, played for Minnesota, and was signed with Nike the Air Garnett was his shoe of choice.
26. Adidas T-Mac II (Return Of The Mac)
Everyone and their mother had a pair of these, including me and Adidas recently retrod these as the Return Of The Mac. They were T-Mac's shoe peak no doubt.
25. Nike Shox BB4
Boing Boing Boing! The firs ever pair of Nike Shox, and by the way, don't be disrespecting them like that.
24. Nike Air Zoom GP II
Another pair of GP's that had great style and comfort that were necessary for every point guard for The Bay to NY to Toronto.
23. Air Jordan II
The second coming of J' it proved he was more than a one hit wonder.
22. Reebok Kamikaze
Shawn Kemp goes down as one of the greatest dunkers ever throwing down over everyone and anyone, plus the GP to Kemp connection was amazing, especially since they had some oof the hottest kicks in the game on.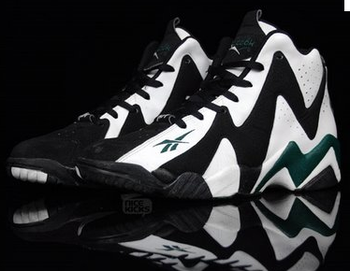 21. Reebok The Question
Allen Iverson
's debut in the shoe game, it also probed that he was The Answer to all our questions.
20. Nike Air Foamposite II KG
KG's hottest kicks, they somehow fit him exactly (maybe we thought he was a robot inside) plus the black on black and bronze on black colorways were amazing.
19. Adidas KB8 (Crazy 8)
Kobe's first signature shoe ever would not be topped, with the great colorways and pushing-the-boundaries design the KB8 became an icon in shoe history.
18. Nike Air Penny II
My personal favorite Penny but not his best according to the masses, another kick you could rock with jeans and a tee and not look crazy, oh and Chris Rock as little Penny made my day every time.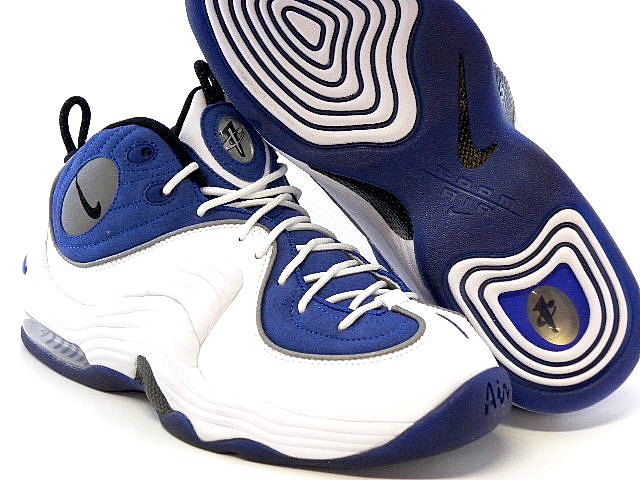 17. Nike Air Penny III
Penny was going to be one of the greats while rocking his line, then he threw his knees out.
16. Nike Zoom GP
The shoe fit like a glove, and The Glove rocked these to a great season while putting up many highlights, points, rebounds and assists, not to mention they are just amazing looking and everyone wanted them.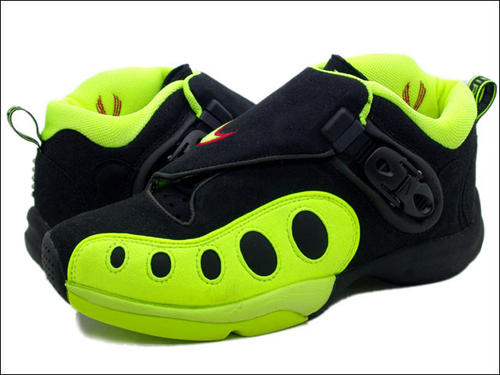 15. Nike Air Penny Foamposite
Penny has the third greatest shoe line ever and rocked these to the top, plus they are his most popular shoe too.
14. Nike Air Uptempo 97
Scottie Pippen rocked these and made them as legendary as the defensive force himself, plus they were just as comfortable as having Pippen on your team himself.
13. Nike Air Zoom Glove
Gary "The Glove" Payton's best shoe ever, his series rivaled Jordan's (In fact he was such a threat Jordan signed him to player exclusives in his later years).
Gary Payton
had the third greatest shoe line ever and He was the league's best point guard while his line was on top. The Air Zoom is amazing yet simple.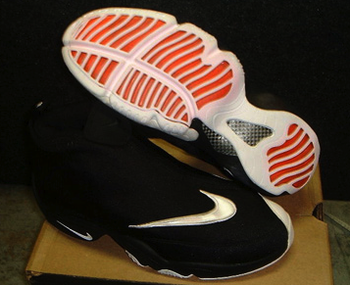 12. Air Jordan IV
Jordan had many battles in these (most notably the bad boy Pistons) and they helped create a legacy, they were two away from our top ten ever.
11. Air Jordan XII
Nothin' but a G' Thang, these shoe's were what anyone who liked J's had, one of the many colorways, Jordan wore these during one of his best years ever.
10. Air Jordan 60 Plus
To start off our top ten shoes ever why not take all the shoes MJ ever scored 60+ points in and turn them into one. Plus they didn't just throw them together the made a top ten worthy shoe.
9. Air Jordan VI
Another one of my favorite Jordans, plus he won his first championship in them, not to mention they are so nice it doesn't even make sense.
8. Air Jordan V
Inspired by a fighter jet, I sometimes wonder if that was a front and it was inspired by Jordan, a high flying destructive force, plus in 1990's Jordan was still as athletic as ever.
7. Air Jordan XI
Most likely the most popular Jordan ever, brought patent leather in, the most popular design, amazing colorways, and Jordan wore them on his way to 72-10.
6. Air Jordan III
The first shoe to ever feature a silhouette of the Player on it, that silhouette became the logo and the rest is quantum physics... or history.
5. Converse Weapons
A sneaker that both Bird and Magic wore, could it get any better? Not until Jordan arrived.
4. Air Jordan VII
These Jordans mark the peak of the greatest player ever, the dream team, and were my shoes of choice in grade 5. My favorite Jordan's and choice for nicest too. I love these shoes and need another pair, plus they have so many amazing colorways.
3. Converse Chuck Taylors
The first ever signature basketball shoe, it had to be top three!
2. Nike Air Jordan I
THE AIR JORDAN I IS NUMBER TWO?!?!?! Yes, Jordan's shoe was banned and became a legend and the greatest shoe from the greatest shoe line ever, it created a culture (the second basketball shoe culture ever) and is too good to be lower than two.
1. Nike Air Force 1
Air Force 1's are more than a shoe, they are a culture.
Jerry Stackhouse
and
Rasheed Wallace
both wore this culture as there signature shoe for quite some time, and I had 5 pairs in grade 4 and 5. It doesn't hurt that it is the highest selling shoe of all time and they still snap necks when someone sees them.