Number twenty four
Gary Payton
? I know that's what some of you are thinking,
Gary Payton
is widely underrated nowadays, and most of that is due to little awareness of him. Gary is fading historically, most people know little to nothing about him, like I bet you didn't know he could have been a Golden State Warrior when the Seattle SuperSonics switched there pick for Golden State's Dana Barros, or that in that same year two months later the pick was given back to Seattle for Alton Lister? Payton was in a multitude of trades for multiple reasons, he was traded by the Milwaukee Bucks in 2002-03 with
Desmond Mason
for the likes of
Ray Allen
, Flip Murray,
Kevin Ollie
and the pick that became
Luke Ridnour
, after that
Gary Payton
trade madness broke out, like the time he was traded by the Los Angeles Lakers along with Rick Fox and the pick that became
Rajon Rondo
to the Boston Celtics for
Chucky Atkins
,
Jumaine Jones
and
Chris Mihm
or what about the time he was traded by the Boston Celtics along with Tom Gugliotta, Michael Smith and the same
Rajon Rondo
pick to the Atlanta Hawks for
Antoine Walker
, or the myth that somehow in the middle of this season he was traded to the Washington Wizards (Don't believe me? Look it up)? "The Glove" get's a lot of heat for those trades, as people seem to think he "pimped" himself, but he was traded each of those times, he also catches heat for being a locker room lawyer, but the only incidents were in Seattle (with Howard Schultz) and LA (trying to help sort out the Kobe-Shaq mess)
Gary Payton
seems to be lower than he should on certain lists *cough* Bill Simmons *cough* because of rumours.
I'm going to justify
Gary Payton
's place at number twenty four right now using the questions we will use to rank the top twenty four (two NBA rosters worth), then back it up with an article on him:
Bill Simmons uses a criteria that looks like this to determine where players go on the list:


1. Did he understand and use the secret?
Yes Payton gave up good looks for better team-mate looks routinely throughout his career, and it happened on the biggest stage in the 1996 NBA Finals, Payton is not remembered for this, and people seem to think just because he trash talked and had swagger he was a jerk that only cared for himself, not at all would a jerk who only cared about himself take his team to the Finals and hold his own against Michael Jordan? No, by watching Payton it seemed like he lead the league in pass to assists, and he could still score around 20 points a game in his prime.
2. If you had to win a game with your life on the line (1 on 1 and 5 on 5) would you pick him?
Yes and Yes, but it varies by person.
3. Would he be fun to play with?
I think Gary would be one of the more fun people to play with do to his ability and mentality, he'd never be let up but it would be fun no matter what team you were on, unless he was guarding you.
4. Traded in his prime?
I don't count the Bucks as his prime as it ended up being the end of his prime right before he was traded (that may be due to the fact that a new system was implemented like the fact he was throwing up 7-11 assists before the triangle was implemented).
5. Great over a short period of time over good for a long period of time?
Great over an 9-10 year period depending on how you feel about the Bucks year.
6. How does his era affect his stats?
Gary would average more points and assist in times today and maybe even get more DPOY's due to key rule changes for the centers and the fact he could dominate defensively without handchecking.
7. Did he have at least two memorable qualities?
Yes and we'll get to them later.
8. Did he make at least one first team or second team All-NBA team?
Yes.
9. Did he connect with fans on a spiritual level or an "I've never seen anyone like this before"?
Yes, he brought the streetball mentality to the big stage, and connected with regular fans everywhere when they thought he was cooler than almost everyone else.
10. How good of a teammate was he?
Good, his swagger pushed the Sonics to another level especially during the 90's with Kemp (who was also full of swag) by his side.
11. How well would his game translate into today's game?
Excellent, his spin and crossover would be even more effective and he would dominate the less defensive PG's, we already covered this though.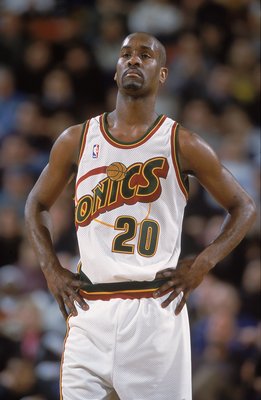 Gary Payton
was like the Deion Sanders of the NBA, arguably the greatest defender ever, a world class offensive player and one of the best special teams players too (special teams being point guard rebounding), but Gary is his own player, and a player that went head to head against fellow PG's Magic Johnson, Isiah Thomas,
Jason Kidd
, Mookie Blaylock,
Steve Nash
, Mark Jackson,
Nick Van Exel
,
Chauncey Billups
, Fat Lever, John Stockton, Rod Strickland, Terry Porter, Tim Hardaway,
Andre Miller
, Muggsy Bogues, Derek Harper,
Stephon Marbury
,
Sam Cassell
, Avery Johnson,
Mike Bibby
, Kenny Anderson, Damon Stoudemire,
Jason Williams
and many many more, and the thing is, he
beat
all of them except Magic and Isiah (I know a lot of names, but they are all great players who would dominate against today's guards).
Gary "The Glove" Payton was a Swiss Army Knife of sorts, adding a new element to his game every year until he had everything down (sort of like what
Derrick Rose
is doing nowadays), defending better than we had seen before and haven't seen close to his D since, posting up and dominating the paint and post as a pg, draining threes, swiping the ball, cashing mid range J's, crossing over and doing everything in between. Gary became a legend quickly after a slow start, here's a look on his career during his prime.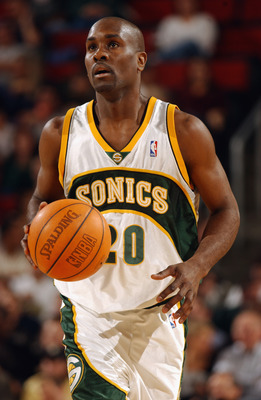 "The Glove" was and is widely known as the best all-around point guard of the 90's (unless you ask someone who only saw his Heat, Celtics and maybe even Lakers days), He was the top player on the Seattle Sonics from 1992-03 and Milwaukee's best option in '03 as well, GP was one of the greatest trash-talkers ever (Wait for our list to come out) even making
Brevin Knight
nearly resort to tears, and one of the greatest defensive players and point guards ever (once again our list will be out soon) but even more so, he used them together, when Payton wanted to slow an opponent down not only did he turn up his defensive intensity (which was always high) he also knew that if he got your mind off your game he would have less work to do (also freeing up energy for offence!), smart! Gary did much more too, including party hard, here' a story from Seattle Writer Glen Nelson about Gary's legendary partying: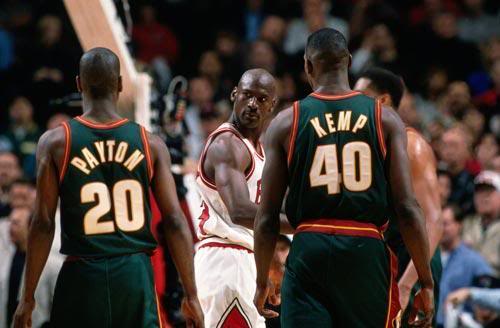 It's the '97 playoffs, and the Sonics are on the road facing Phoenix in a best-of-five first round series. Payton and Nelson head out the night before the game. Their (platonic?) dates for the evening: Salt-N-Pepa. For Glenn, the evening's an absolute Technicolor blur. In da clubs, cavalcade of booze, Cristal poppin' in the stretch Navigator, after the party there's the hotel lobby, etc. Their allegedly drops Payton off at the hotel in time to catch the team bus to the arena for pregame warmups, so the Glove's working on no sleep. Nelson makes the mistake of trying to catch a little shuteye, oversleeps, barely makes it on time for tipoff, and subsequently has trouble spelling the word "the," so brain dead is he from a screaming hangover.
Payton? He drops like 34 on the Suns (I'm not sure who won, but still, impressive). And this was the rule, not the exception. Shawn Kemp thrived in Seattle because he could keep up with Payton on AND off the court.
Vin Baker
's career ended up in alcohol rehab because he couldn't.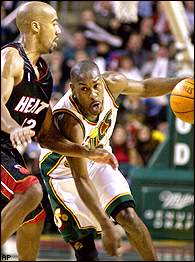 Back to Payton's talent though, he revolutionized the position creating a template for what young point guards should thrive to become (like
Brandon Knight
,
John Wall
and many others), leading the league in total assists (99-00), three's (99-00) and steals (95-96) shows he had multiple talents, not to mention the fact that his 99-00 season is possibly the greatest point guard season we have ever seen (24-7-9, 2 steals, 45% FG, 34% 3FG, 82 games, 42 MPG).
Gary Payton
gained an amazing post game (both low and high) and used it to dominate guards everywhere, something only two other star PG's did, Oscar and Magic.
Gary Payton
would have won multiple rings if Shawn Kemp didn't blow up like a balloon, and anyone who watched basketball during the 90's and early 2000's could tell you that
Gary Payton
was more talented than his competition (Stockton, Kidd, KJ and Nash), He could do everything and anything.
Payton was more talented than Stockton, Kidd, KJ or any of those guys for that matter (battles which we witnessed and reminisce about today) and showed it all through his career. The thing is, Payton's intensity (much like
Allen Iverson
and Michael Jordan) would have driven teammates like Karl Malone,
Keith Van Horn
and other softies to the edge, but can you take that away from them? A will to win, is that really something to hold against someone? No especially when they grew up in area's where you had to win to stay on the court, and losing could get your stuff taken.
Gary Payton
brought the ghetto to the courts (which
Allen Iverson
furthered), bringing his trash-talk, open mouth gum chewing, swagger and not to mention his patented protruding lower jaw into the spotlight.
Gary Payton
could distribute, score, defend and flat out play, which he proved throughout his career.
One thing I think I should mention for all you fans new to the game or think Payton just rode the bench for his NBA Championship ring, after failing to win it with the Sonics, Bucks, Lakers and/or Celtics "The Glove" went to Miami and realized that "The Glove" had gained holes in it. When Payton realized that he wasn't a superstar anymore he did what he was brought in for, leadership, clutch and hit shots, and when the Heat needed his experience he readied himself and banged home two of the biggest plays of the Finals (A lefty Banker layup that lead a run by the heat in overtime of game 5 and an a huge mid-range J' that won game 3 starting the Heat comeback). Gary won his ring that year and finished off a career of greatness by contributing to a championship team, which is a great end to an unbelievable career but the main reason he is loved by many is the fact that every time Gary Payton was on the floor he left everything on the court, he gave it his all (on both sides of the floor unlike many), he played as hard as anyone, and had an attitude that few others had too, every Gary Payton game offered a world class performance, every single one...
Oh and he's is trying to
Bring Back Our Sonics!