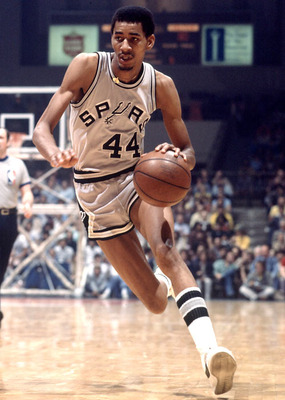 George "The Iceman" Gervin
, one of the greatest players ever and top five on our top ten perimeter scorers list gets his points quietly throughout the whole game, rarely having one of those "Oh no! He's catching fire!" moments. Gervin was a 6'8'' 180 pound swing-man. He had one of the most accurate bankers ever, the ability to beat anyone off the dribble and a finger roll that gives me chills when I see it. Gervin missed out when the broken bank Virginia Squires sold Julius Erving to the Nets, had George Gervin and Julius Erving played together the "Iceman" would have won multiple rings, they would have been the coolest team ever...
and
no one would be able to match up with them. Gervin nicknamed the "Iceman" is nothing less than my number two choice on the list of greatest perimeter scorers ever, he scored with remarkable efficiency and put up these astonishing numbers: 25.1 PPG on 54% FG and 84% FT over his career. While Gervin was a very uninspired defender he was good when he wanted to be, other knocks on him would be the fact he cared more about scoring titles and money than winning championships. "Iceman" was not a great clutch player but he was a
SCORING MACHINE!!!
Gervin was absolutely magical to watch sinking his everlastingly beautiful finger roll from right under the hoop to around 18 feet. Gervin won three scoring titles in a row and four overall... If that is not the mark of a great scorer I do not know what is. Gervin has inspired many, most notably
Gary Payton
, and in the words of the "Glove" himself "He was just so saucy!"