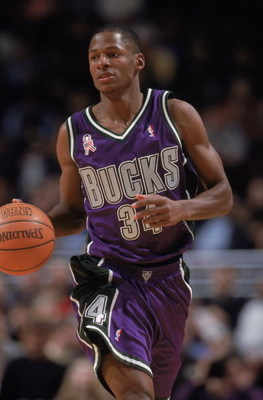 Resume: 15 years, 10 Star Quality, 4 Role Quality, 10 All-Stars...
Top 10 '05... Top 15 '01...
3 year peak: 22-5-4, 43% 3FG, 88% FT...
'01 Playoffs 25-6-4, 48% 3FG... '05 Playoffs 27-4-4... '08 Finals: 20-5-4,
Record: 22 threes, 8 threes one half... Career: 20-4-4 40% 3FG, 89% FT...
Career Leader: Threes...
"Ray Allen... Where do I start? I don't know where to start! Ray Allen, the greatest shooting form ever. In mu opinion Ray is the NBA three point king and one of the most underrated defenders of all time."
Ray Allen may be the active "Three Point King" but in mine and many other opinions he falls behind Reggie Miller and before anyone else, his D may have been underrated but now may be overrated, Ray is an average defender and an amazing scorer with leading capabilities, Ray was moved around allot partly influenced by his underrated stats. He played historically in the '08 finals, is one of the greatest clutch shooters of all-time, he has many skills but only a few elite. Ray should have never been a number 1 player on a team, like Reggie Miller, Scottie Pippen, and John Stockton/Karl Malone, Ray also was a pretty good actor in
He Got Game.
Ray Allen, nothing big, just one of the greatest players in NBA history, 62nd to be exact.
TheGlove_20
That was the original post I wrote but RayRay_34 created another.
"Ray is the greatest shooter, and a record breaker... his defense affected game even when he wasn't getting steals, and back in the day his behind the back to the stepback sequence was unstoppable... Ray Allen is CLUTCH! Yes he's the most clutch player in the game and one of the most clutch in history, and in my opinion is tied for most clutch three point shooter ever... Tied with Reggie Miller of course."
That was RayRay_34, he had a little trouble describing why he loves Ray so much, but we played a little NBA 2K11 and hundreds of memories popped into his head as he scored a Ray Allen three pointer sending us into overtime delaying an 18 point loss and 15-0 run with Gary Payton (at the hands of me, of course) and the 95-96 Sonics.
Let's get back to the point, letting you know why Ray Allen is the 62nd greatest basketball player in the history of the sport. Ray never wavered in efficiency and still hits clutch shots when asked, his prime was amazing and had the most perfect jumper (not the one that would fit my style though) and did a lot with somewhere between nothing and the resemblance of a defensive hockey team with a +/- of -12. Ray was amazing in the ways he was a three point shooting machine, relentless scorer and he iced most of the games that featured him with the ball in his hands at the end of the game.
TheGlove_20