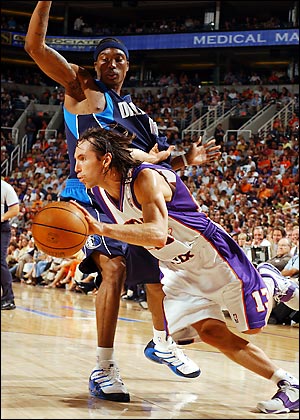 Growing up
Steve Nash
was one of my favorite players. I loved to watch his games because he always made amazing plays, whether he was driving in or making a no look pass. Being an amazing ball player
Steve Nash
is also one of the nicest person you could meet, along with his charities he also does basketball camps. A place where young kids can learn the about basketball and have fun. Steve's rise to stardom began in 1996 after the Suns drafted him, there was a lot of hatred received from the fans because they did not approve of the Suns using the fifteenth pick for him. In his first two seasons he was behind
Kevin Johnson
,
Sam Cassell
and
Jason Kidd
, so it was no surprise that in his rookie season he only played 10.5 minutes. After the 97-98 Nash was traded to the Dallas Mavericks. His first season as a Maverick was shortened due to the lockout but still showed some improvement as he averaged 7.9 points, 2.9 rebounds and 5.5 assists per game, after three seasons Nash proved that he was a high caliber player, so when free agency came around after the 03-04 season you could bet that a lot of teams wanted him. Then Nash decided to go full circle back to where it all started... Phoenix.
Steve Nash
joined
Shawn Marion
,
Joe Johnson
and
Amare Stoudemire
, with the help of Nash the team had an amazing turn around with a record of 62-20. Nash won the 04-05 season MVP and had some success in the playoffs, but he couldn't beat the Spurs in the Western Conference Finals.
Steve Nash
went on to win another MVP in the 05-06 season.
Steve Nash
has accomplished many things in his NBA career, he is a 7 time All-Star, 7 time All NBA team selection and a back to back MVP (even though there were better MVP options both years, and in 2007 when he should have won he was shortchanged). Although Nash had achieved a lot he still has not won a ring. Maybe due to the fact that his defense is horrid (no top twenty point guard is worse defensively),and as the old saying goes "Defense wins Championships".
Steve Nash
is still one of my favorite players and I believe that he will win a ring one day.
Vinsanity_15